Flemish Eye Sleeve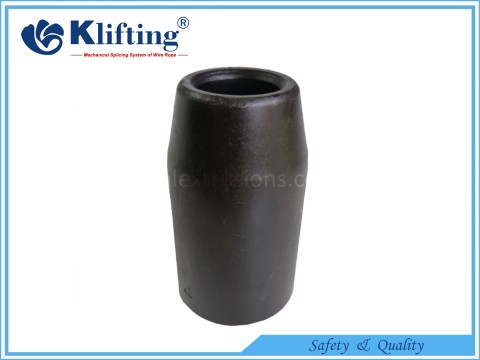 We are the leading manufacturer of Flemish Eye swaging sleeves in China. All our Flemish Eye sleeves have corrosion protection and are made according to the highest quality standard. Surface treatment could be black oxidized or galvanized. Sleeves are stamped for traceability with code, size, and batch number.
All our Flemish Eye swaging sleeves are tested for better swageability. Testing includes hardness test, chemical analysis, microstructure analysis and closed flattening test according to EN 13411-3:2004 standard.
The Flemish Eye sleeves are satisfy with the European standard, EN 13411-3, for mechanical splicing.
Sleeves are recommended to use with 6x19, or 6x37, IPS or XIP (EIP), XXIP (EEIP), RRL, FC or IWRC wire rope.
Not suitable for anti-rotation wire rope. According to EN 13411-3, when properly used, the terminal has an efficiency rating of over 90% based on the strength catalogue of the wire rope.
ATTENTION! Before using our Flemish Eye sleeve with any other type of laid, constructed or graded wire rope, it is recommended that the terminals be be destructively tested to demonstrate the adequacy of the assembly.

Flemish Eye Sleeve
Part No.
Ferrule Code
Rope Size
A
B
D
E
C
Size After Swage
Weight
inch
inch
inch
kg/100pcs
KFS11060
6
1/4
1
0.66
0.31
0.28
0.47
0.57
2.27
KFS11080
8
5/16
1.5
0.91
0.38
0.44
0.62
0.75
6.36
KFS11100
10
3/8
1.5
0.91
0.47
0.39
0.66
0.75
6.36
KFS11110
11
7/16
2
1.22
0.53
0.65
0.85
1.01
15
KFS11130
13
1/2
2
1.22
0.63
0.56
0.91
1.01
13
KFS11140
14
9/16
2.75
1.47
0.7
0.63
1.03
1.24
29
KFS11160
16
5/8
2.75
1.47
0.75
0.63
1.09
1.24
26
KFS11190
19
3/4
3.19
1.72
0.91
0.84
1.28
1.46
40
KFS11220
22
7/8
3.56
2.03
1.03
1
1.53
1.68
60
KFS11260
26
1
4
2.28
1.16
1.13
1.72
1.93
89
KFS11280
28
1-1/8
4.8
2.5
1.28
1.25
1.94
2.13
118
KFS11320
32
1-1/4
5.19
2.78
1.44
1.41
2.16
2.32
161
KFS11350
35
1-3/8
5.81
3
1.56
1.56
2.38
2.52
192
KFS11380
38
1-1/2
6.25
3.25
1.69
1.69
2.63
2.71
227
KFS11450
45
1-3/4
7.25
3.84
1.94
1.97
3.13
3.1
366
KFS11500
50
2
8.5
4.38
2.25
2.25
3.63
3.56
514
KFS11570
57
2-1/4
9.56
5.03
2.5
2.53
4.03
4.12
879
KFS11640
64
2-1/2
10.5
5.5
2.75
2.81
4.5
4.5
1068
KFS11700
70
2-3/4
11.5
5.75
3
3.09
4.75
4.7
1271
KFS11760
76
3
12
6
3.25
3.38
5
4.96
1335
KFS11820
82
3-1/4
13
6.5
3.86
3.54
5.43
5.37
1650
KFS11890
89
3-1/2
14
7
3.88
3.94
5.84
5.77
2106
KFS11950
95
3-3/4
15
7.5
4.06
4.25
6.31
6.23
2497
KFS11100
100
4
16
8.13
4.38
4.5
6.81
6.69
3087
KFS11115
115
4-1/2
18
9.13
4.88
5.06
7.66
7.45
4540
KFS11130
130
5
20
10.52
5.5
5.63
8.73
8.28
6600
KFS11150
150
6
24
12.54
6.5
6.75
10.2
9.93
12300