JIS Aluminum Ferrule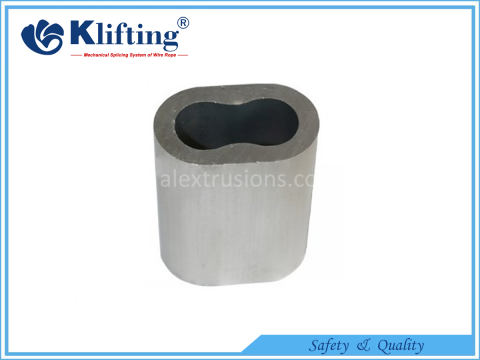 The JIS aluminium ferrule are made from a special designed profile. The JIS ferrule corresponds to Japanese standard for turnback ferrule or ferrule secured eye termination,make according to the specific requirement of our clients.
The JIS ferrule can be used in basic applications, with bright or galvanized single layer steel wire ropes with round strands up to fill factor 0,60 and grade 1960. The types of rope lay shall be Ordinary or Lang lay. For Fibre core wire ropes larger than 60 mm the maximum rope grade is 1770/MPa.Wire ropes shall conform to EN 12385-4 and 5.
The JIS ferrule become smaller in diameter after pressing than the T ferrule. For economic reasons, the UM ferrule can be used as an alternative to the T ferrule at wire rope grades, less than 1960/MPa.
Ferrules, when properly applied, are capable of holding the rated breaking strength of the rope to which they are applied. However, to determine the exact holding strength, PULL TESTING IS ESSENTIAL prior to use. This step insures the proper selection of materials, the correct swaging procedure, and an ample margin of safety for the intended use.
| | |
| --- | --- |
| Product Name | JIS Aluminum Ferrule |
| Standard | EN13411-3(DIN3093) |
| Brand | Klifting |
| Material | Aluminum Alloy |
| Technology | Extrusion |
| Size | 6mm-40mm |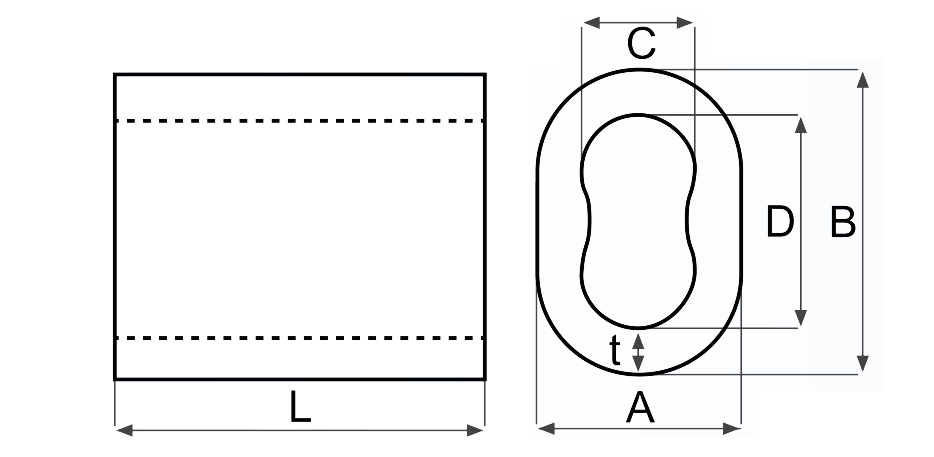 JIS Aluminum Ferrule
Part No.
Ferrule Code
A(mm)
B(mm)
C(mm)
D(mm)
T(mm)
L(mm)
ZJ2016060
6
13.5
20.3
7.2
13.7
3.3
24
ZJ2016080
8
17.4
26.6
9.2
18.4
4.1
32
ZJ2016090
9
18.9
29.2
10.3
20.6
4.3
36
ZJ2016100
10
20.5
32
11.5
23
4.5
40
ZJ2016120
12
24.6
38.4
13.8
27.6
5.4
48
ZJ2016140
14
28.1
44.2
16.1
32.2
6
56
ZJ2016160
16
31.4
49.8
18.4
36.8
6.5
64
ZJ2016180
18
34.7
55.4
20.7
41.4
7
72
ZJ2016200
20
38
61
23
46
7.5
80
ZJ2016220
22
41.7
67
25.3
50.6
8.2
88
ZJ2016240
24
45
72.6
27.6
55.2
8.7
96
ZJ2016260
26
51.9
81.8
29.9
59.8
11
104
ZJ2016280
28
55.9
88.1
32.2
64.4
11.9
112
ZJ2016300
30
59.4
93.9
34.5
69
12.5
120
ZJ2016320
32
63.1
99.9
36.8
73.6
13.2
128
ZJ2016340
34
65.1
104.2
39.1
78.2
13
136
ZJ2016360
36
68.4
109.8
41.4
82.8
13.5
144
ZJ2016380
38
71.6
115.3
43.7
87.3
14
152
ZJ2016400
40
75.1
121
46
92
14.5
160