Q Type Wire Rope Swaging Machine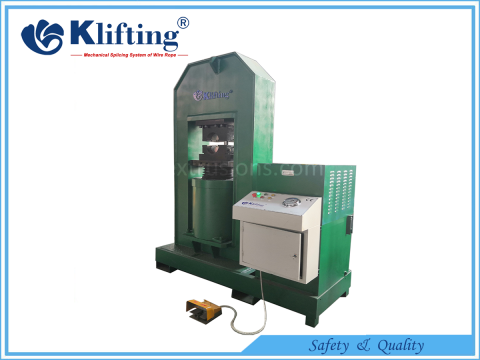 Q Type Wire Rope Swaging Machine
Our company has nearly 8 years of experience in the production of wire rope swaging machine. The available swaging machine range from 150 tons to 3000 tons, and can suppress steel wire rope slings with a nominal diameter of 105mm ferrule and 5'' flemish eye sleeve.
Our wire rope swaging machine can press a variety of rigging joints, safe and efficient. We use the most advanced production technology to ensure the highest quality manufacturing process and the highest level of product safety, while also satisfying customers' pursuit of cost-effectiveness.
All functional parts of the equipment will undergo strict quality inspection.
Q Type Wire Rope Swaging Machine
Machine Model
Capacity
Max. Flemish Eye
Max. Ferrule
K-YL150TQ
1500 kN
5/8
16
K-YL350TQ
3500 kN
1-1/8
30
K-YL500TQ
5000 kN
1-1/4
36
K-YL800TQ
8000 kN
1-3/4
42
K-YL1000TQ
10000 kN
2-1/4
56
K-YL1500TQ
15000 kN
2-3/4
63
K-YL2000TQ
20000 kN
4
96
K-YL3000TQ
30000 kN
5
105